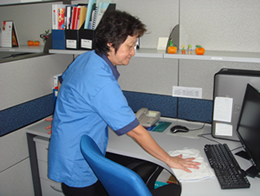 Gladen Maintenance Services (S) Pte Ltd was established since 1993. Our main aim is to provide superior commercial and industrial cleaning services, surpassing the standards and quality of the professional cleaning industry.

Since 1993, we have proven and gained the trust from many of our customers in terms of cleaning performances, reliability as well as integrity.

Gladen Maintenance Services is a one-stop integrated cleaning company that provides not only general cleaning but also waste management, external facade cleaning and specialized floor maintenance and care.

We have a reliable workforce specially trained in their respective functions. Our commitments and initiative have enabled our company to remain competitive for the last decade.

Gladen Maintenance Services is also glad to obtain the ISO14001:1996 certification by PSB in 2002. This certification was updated to ISO14001:2004 in October 2005.



We treat our customers with high esteem and will give our best to meet their expectations. Our greatest strength is to give a personal touch to cater to all our customers' needs. We constantly expand our scopes of services and skilled human capital to cater to our customers' specific requirements and expectations.

We believe that our excellent services & versatility will be our competitive advantage when clients select their cleaning partners. Our systematic cleaning and resource management will eventually help clients to save wastage as well as enhance the image of the premises.

Last but not least, Gladen Maintenance Service will go for the extra mile and that is our commitment.



We aim to be an environmentally responsible provider of cleaning services giving customers greater value in our services.
We have incorporated our Company and the Environmental Policy and as such, we are wholly committed to:

Give support to our customers in recycling waste and preventing pollution.
Learn and adopt good market practices.
Abide by applicable laws and regulations.
Drive pollution and wastage to the practicable minimum.
Educate our staff for greater environmental awareness.
Never cease to better our performance